Review Your SUNY Smart Track Award Letter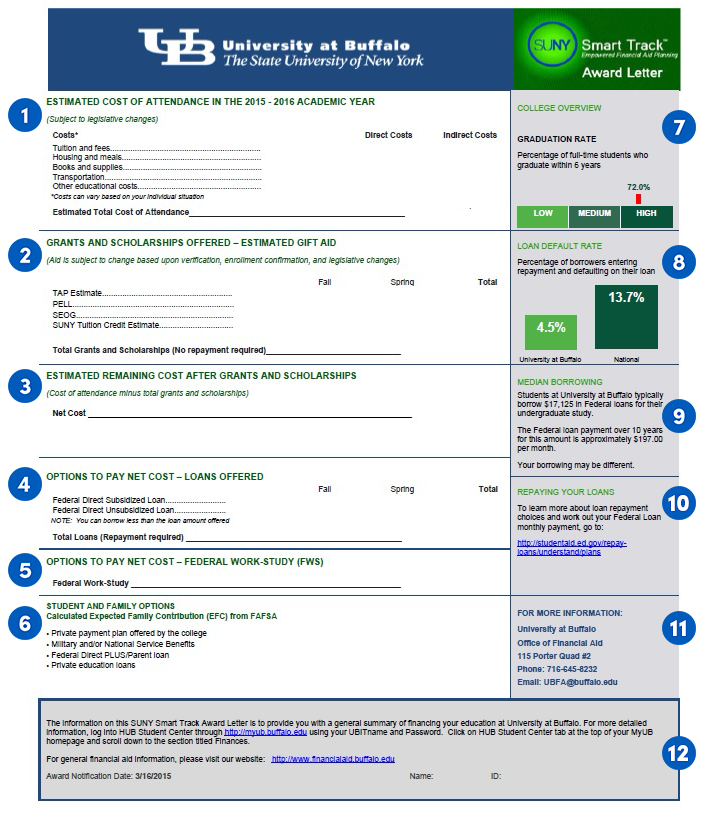 Your estimated cost of attendance includes direct costs of tuition, fees, room and board (if you are living on campus), as well as indirect costs which are assumed expenses. While UB will only bill you for direct costs, you may obtain financial aid up to your total cost of attendance.

The awards in this section are considered Gift Aid because it includes scholarships and grants that do not have to be repaid. The amounts listed represent the maximum amount you could be eligible for, assuming you will meet all eligibility requirements and enroll in at least 12 new credit hours each term. TAP and SUNY Tuition Credit estimates require an additional application through HESC. TAP and SUNY TC estimates on your award letter do not necessarily indicate that we have received your application. Visit the HESC website to confirm that your application is complete and that you have included SUNY Buffalo – 1010 as the school code. This section will not reflect any external scholarships that you may be receiving.

Your Net Cost is the estimated amount that will need to be paid by means other than gift aid.

Other financial aid options to help you cover your expenses may include loans. If you are eligible for a Direct Subsidized or Unsubsidized loan, we will list the maximum award here.

Another option to help cover your educational expenses is the need-based Federal Work-Study. The Work-Study program provides employment opportunities in various offices on campus and in community service agencies. You will be paid at an hourly rate and receive paychecks every two weeks for the hours worked. Federal Work-Study will not be credited to your student account.

The Student and Family Options section lists other options that you may consider to help cover your remaining educational expenses. The Expected Family Contribution (EFC) that was calculated from your FAFSA is also provided here. The EFC is a number that determines your eligibility for federal student aid. Other options to assist with educational expenses include the UB Payment Plan, Federal Direct Parent PLUS loans, and alternative loans from private lenders.

UB proudly offers the Finish in Four program to guide students towards obtaining a degree in four years, however most schools consider six years a reasonable completion timeframe. Compared to national completion rates, UB sits at the top of the list with 70% of our students earning their degrees on time.

The loan default rate is an important aspect that should be considered when selecting a school because it is an indicator of the affordability of your education. Low default rates can be attributed to lower loan indebtedness upon program completion, as well as the student's ability to repay the loan after graduation. UB continues to be listed among the most affordable universities in the US.

Many students need to borrow loans to assist with educational expenses. The median loan rate is an indication of what UB students tend to borrow in Federal Loan funds over the course of their enrollment.

If you are considering borrowing loan funds, it is important to understand the terms of the loans as early as possible. UB and the Department of Education both offer resources to students and their families to provide all the information needed to borrow smart.

Contact us if you have any questions about any of the information listed on your award letter. Our experienced staff is available to answer your questions by phone, email or in person. Financial aid advisors are located on both the North and the South Campuses.

Our office will include a message with additional information as needed.
---
What are your next steps?
If you decide to borrow loans, determine if you need to borrow the full amount offered or a lesser amount. If you reduce your loan now but need additional funds later in the year, you can complete a Loan Revision Request form to borrow up to your maximum eligibility.
Accept or decline your loans. You will be able to reduce the loan amount during this process.
If you were offered Federal Work-Study, accept or decline the work-study award in HUB.
Check your To Do List in HUB regularly to see if additional steps are needed to satisfy all financial aid requirements.
Check your UB email frequently as our office will send important award specific information throughout the year.
Call or stop-in if you have any questions about your financial aid!
Information is subject to change without notice due to changes in federal, state and/or institutional rules and regulations. Students must complete a FAFSA every year. Students must be making satisfactory academic progress to continue to receive financial aid.
Last updated: Nov 15, 2023 2:08 pm EST